Malta is known for its warm, sunny, Mediterranean climate – with 3,000 hours of sunshine per year, there's no denying that the sun will play a prominent role within your Malta holiday.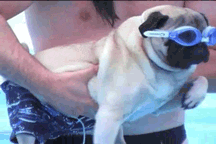 As much as you might enjoy bringing back that "Hey everyone I was on holiday" tan as a souvenir, it is 2018, and by now it is a well known fact that the sun is NOT your friend. From heatstroke to skin cancer, the sun can truly be an enemy. The obvious solution to unbearable heat is to go to the beach, but that's not always viable (more on that later).
The question is, how are you going to keep up your "beach bae" status and still treat your body as a temple this summer? Here at ShortLets Malta, we care about your reputation and your health; we've therefore compiled a list of ways you can take care of yourself whilst enjoying your holiday of a lifetime. Here are 5 ways to deal with a Maltese Summer this 2018.
1.Drink lots of water: Let's face it- this is probably the most basic, yet most important tip we can offer. With possible highs of 42ºC this year, your average 8 glasses a day just won't do! The EFSA (European Food Safety Authority) recommends an average of 2 litres a day for women, and an average of 2.5 litres a day for men. Avoiding sugar, additives and calories in your drinks is also a must, and supplementing your daily pint (or two) of beer by the beach with water will ensure that you stay super hydrated. Carry a bottle of cold water wherever you go, as you never know when you might need it the most!
2. Wear Sunscreen: It's our most effective tool against the sun (except, of course, when it comes to staying out of the sun, but it's summer so why would you?). It reflects of absorbs those pesky UV rays, whilst protecting your skin against wrinkles, moles and sagging skin. It is recommended that one wears sunscreen of SPF 30 or even higher, to be applied every hour or so, especially if you're by the pool, at the beach, or actively sweating. Don't forget to apply sunscreen to your ears, face, neck…even your lips!
3. Avoid peak hours: If you're spending a day by the beach with your family and/or friends, remember this important bit of information: the sun gets particularly hot and unbearable between 12pm-4pm. It is SUPER recommended that those hours are spent under the shade of an umbrella, or indoors. If being outside cannot be avoided, refer to tip number two (2) over, and over, and over, and over again.
4. Know which beach to hit: It is important to update yourself daily on which beach to visit that day. Wind and sea conditions can make it dangerous to swim that day, which is why the Malta Red Cross and Malta's 100.2 FM Radio collaborated and came up with the Which Beach website (follow this link: https://whichbeach.com.mt), updated daily to provide you with the best beach to visit on the day, and all the information you might need on that particular beach. Look out for coloured flags found on said beach; blue flags mean that the beach is clean, safe and enjoy the highest quality of bathing water, whilst green flags mark safe to bathe beaches. On the other hand, look out for yellow, red and double red flags: yellow indicates low danger, red indicates high danger, and double red flags indicate extreme danger.
https://www.instagram.com/p/Bg8HkF7FXyC/?tagged=maltabeach
5. Know your beach laws: Even though its 2019, and #freethenipple was and still is a thing in modern society, sunbathing topless on a Maltese beach is not legal. Skinny dipping is also quite illegal, and walking around towns and villages in a bikini or shirtless after a day at the beach can also lead to fines (not exactly the memento you were expecting to take back home).
Have a safe and healthy summer!